BBQ Pork Bun

'

Traditional Chinese

叉烧包

Simplified Chinese

叉燒包

Pinyin

chā shāo bāo

Cantonese Jyutping

caa1 siu1 baau1
Cha siu baau, also spelled char siu bau, are Cantonese barbecue pork buns (baozi). The buns are filled with barbecue-flavoured cha siu. They are served as a type of dim sum during yum cha and are sometimes sold in Chinese bakeries.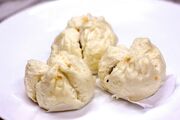 There are two major kinds of char siu bau: steamed and baked . Steamed barbecue pork buns have a white exterior.
Cantonese cuisine
Edit
Char siu refers to the pork filling; the word bau simply means "bun."
Although visually similar to other types of steamed baozi, the dough of steamed cha siu bau is unique since it makes use of both yeast and baking powder as leavening. This unique mix of leavening gives the dough of cha siu bau the texture of a slightly dense, but fine soft bread.
Encased in the center of the bun (bau), there is tender, sweet, slow-roasted pork tenderloin called char siu. The char siu is diced, and then mixed into a syrupy mixture of oyster sauce, hoisin sauce, roasted sesame seed oil, rice vinegar, shaoxing wine or dry sherry, soy sauce, sugar and cornstarch.
Other names
Edit
Roast Pork Bun
Char siu baau
Char siu bao
External links
Edit