Featured article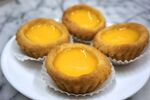 Egg custard tarts are popular dessert items commonly found in dim sum. It's a baked sweet egg custard with a flaky pastry crust. Read more
Featured Video
From the Dim Sum Wiki founder
This wiki was a personal project created because I grew up in New York, knowing the Chinese names for dim sum items and had a hard time finding their "English names" when chatting with friends. Basically, it's a collection of articles "stolen" from Wikipedia, slightly edited so that it only shows what the item is and it's variations. I try to put in my own photos rather than mooch entirely off of them when possible.
Dim Sum in the Twittersphere
Ad blocker interference detected!
Wikia is a free-to-use site that makes money from advertising. We have a modified experience for viewers using ad blockers

Wikia is not accessible if you've made further modifications. Remove the custom ad blocker rule(s) and the page will load as expected.