Stuffed Crab Claws

'

Traditional Chinese

釀蟹鉗

Pinyin

niàng xiè qián

Cantonese Jyutping

yeung hai kim
Stuffed crab claw is a common dim sum dish.  Its primary ingredient is a cooked crab claw with most of the crab meat in the claw exposed.  It is then covered in shrimp paste and coated in breadcrumbs and then deep fried.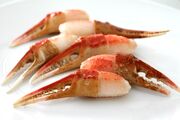 Cantonese cuisine
Edit
Other names
Edit
External links
Edit
Ad blocker interference detected!
Wikia is a free-to-use site that makes money from advertising. We have a modified experience for viewers using ad blockers

Wikia is not accessible if you've made further modifications. Remove the custom ad blocker rule(s) and the page will load as expected.